2000 CC VOS3000 SWITCH

VOS3000 Monthly Rental SWITCH SOLUTION
DDR4 12gb RAM
Backup and Firewall Services
99.9% Uptime Guarantee
12 Cores Processor
Unlimited Bandwidth
Anti Asterisk Auto Remover
Anti Hacker Facilities
Auto SoftSwitch Turn-On Sys
Latest Firewall Manager
Vos3000 V:2.1.2.0 OR 2.1.2.4
2000 CC VOS3000 SWITCH

2000 CC VOS3000

Money Back Guarantee

03 Days

Details

100% FIREWALL SECURITY
FIREWALL MANGER
ANTI ASTERISK SOLUTION
OFFLINE SOLUTION

Dual Hexa Core,
Processor XEON E5-2630 V4,
DDR4 RAM,
US(New York) Location Base Server,
01 GB Internet Connection,
Unlimited Bandwidth.

100% UP TIME GUARANTEE,
24 hours good support. Server always active,
03 days Money Back Guarantee.

Payment method

HARD DISK

700 GB

Bandwidth

Unlimited

Uplink Port:

01 gbps

CPU Type:

DUAL XEON TEN CORE

CPU Model

XEON E5-2630V4

UP-TIME

99.99%
Related Products
3000 CC VOS3000


Dedicated DELL Servers
Intel 16 Cores
DDR4 16 GB RAM & 800 gb Drive
VISUAL-HD ONLINE BILLING FACILITIES::

1. Manager your online Customer Billing
2. Monthly Automatic Invoice Created
3. Invoice pending, Due and Over Due Notification via E...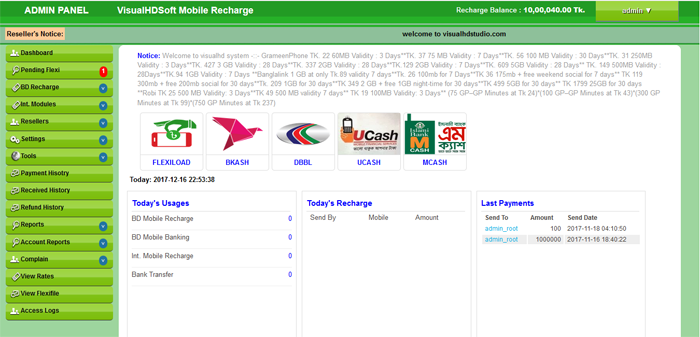 Windows base auto Single and Group Flexiload.
Inculded Bkash and Dutch Bangla Mobile Banking system.
Unlimited Flexi load within 20 second.

Rate: 25,000 BDT
02(Two)...